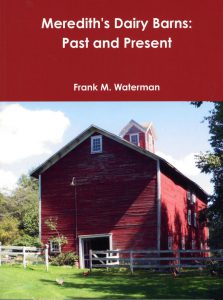 Meredith's diary barns are threatened icons of our rural heritage. Of the more than 230 diary barns that once graded our hills and valleys, a scant 71 survive today. Of these, only 3 still house a dairy. As our farms went out of business, many unused barns that were not maintained succumbed to rain, snow, wind, and fire. Many others, however, have been well maintained and a dozen or so have been restored so that they are in better condition today than they were a quarter of a century ago.
The purpose of this book is to preserve a pictorial and historical record of Meredith's remaining barns and many of the barns that are now gone. It includes pictures and histories of 119 barns, 48 of which are no longer standing.
In addition, a chapter is devoted to describing how Meredith's barns evolved with time in response to the health of the dairy industry, the introduction of new farming equipment and methods, and new building materials and techniques.

Print